Ireland ready to accept 21-month delay to Brexit as Europe warns against no-dealIreland's foreign minister has reassured the UK that Ireland won't stand in the way of the European Union accepting a 21-month delay to Brexit.
Simon Coveney said the focus at this late stage was to provide reassurance to the UK and resolve outstanding issues.
"We have said consistently that if there's a request for more time and a plan to go with that in order to try to deal with the outstanding issues Ireland certainly wouldn't be standing in the way," he told Reuters after a speech at the UN Human Rights Council.
"But really, I think the focus should be on trying to resolve the outstanding issues at this stage rather than extending Article 50."
Flexible
Coveney said Ireland could be flexible on British worries over the border and the Irish backstop, an insurance policy to ensure no hard border returns to the island of Ireland.
"The way to do this is to change the wording of the future relationship declaration [in a way] that can help to provide more clarity and reassurance to Westminster."
Coveney urged the UK to not compromise on "something as fundamental" as the Good Friday Peace Process for the sake of the UK's Brexit deal.
According to reports in the British media, UK Prime Minister Theresa May and EU Commission President Jean-Claude Juncker had constructive talks on Monday and agreed to reach additional agreements on the Brexit divorce deal by 21 March.
'Wake up!' warns Rutte
May is under pressure from European leaders to avoid a no deal Brexit.
Dutch leader Mark Rutte warned the UK is "sleepwalking into a no deal scenario".
"It's unacceptable and your best friends have to warn you. Wake up. This is real. Come to a conclusion and close the deal."
From The Guardian
Keir Starmer: Labour's Brexit stance is either credible deal or remain
Shadow Brexit secretary tries to clarify party line after Corbyn backs new referendum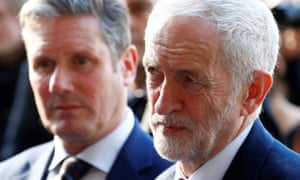 Keir Starmer has stated unequivocally that Labour will back a second EU referendum with remain on the ballot if Theresa May's deal gets through parliament.
Speaking to BBC Radio 4's Today programme, the shadow Brexit secretary also took a thinly veiled swipe at some in Jeremy Corbyn's office by urging the public to listen to elected MPs on the issue rather than advisers.
The Labour leader finally threw his party's weight behind a second referendum on Monday night, but there remains doubt about the wording of the question that would be put to the public.
Starmer insisted the party agreed on the gist of the wording. "A public vote ought to be between the option on the one hand of a credible leave deal and on the other hand remain … That deal should be subject to the lock of a public vote," he said.
"Precisely what wording that is will obviously have to be decided by parliament, but that's the basic choice."
On Monday, the shadow foreign secretary, Emily Thornberry, told Channel 4 News she and Corbyn would be campaigning to remain in the EU if there were a second vote. It was reported later that a source in Corbyn's office claimed Thornberry had "misspoke" during the interview.
She dismissed this as "nonsense" and was backed by Starmer on Tuesday.
He said: "I don't know who said what. What I do know is that you have got elected politicians on your programme, you had Emily Thornberry out last night setting out what the position is that we agreed as the Labour party."
For the avoidance of doubt, Starmer added: "I'm telling you what was in the official briefing from my office and Jeremy's office to Labour MPs last night. So there is no question that it should be between a credible leave option and remain."
Starmer said he would back remain in a second vote, but was more cautious than Thornberry about Corbyn's stance.
"I would vote for remain. Jeremy will obviously speak for himself, but he voted remain last time and he like me has attacked the prime minister's deal uphill and down dale," he said.
Starmer said Labour could not guarantee backing a second referendum until the party had tried to win support for its own soft Brexit alternative to May's deal.
"We will put that proposition up for a vote on a customs union and single market alignment this week. If it doesn't go through, we the Labour party will either put down ourselves or support an amendment in favour of a public vote to protect us against what will be a damaging Tory Brexit, or even worse, no deal," he said.
The Labour MP John Mann warned Corbyn risked being ditched by voters over the party's "absurd" shift to support a second referendum.
"Voters won't have it. The last person to renege on their manifesto was Nick Clegg. It didn't end very well for him on tuition fees," he told Today.
"Our manifesto was unambiguous – we would accept the result of the referendum. A second referendum doesn't do that and the voters – in very, very large numbers – will not accept that."
Asked about opposition to a second referendum within Labour, Starmer said: "I am well aware of different views across my own party and across parliament on pretty well all Brexit issues."